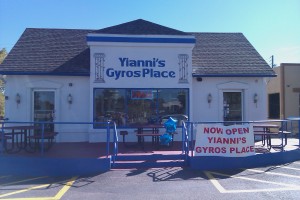 Gyro is the ultimate Greek fast food. Popular all over the world.  The Gyro is a truly and uniquely delicious sandwich.
Yianni's Gyros Place is located at 10450 W. Colfax in Lakewood. Yianni's Gyros Place opened in September of 2010. Yianni's is owned by a local Greek family that has an extensive background in the restaurant business throughout the Denver Metro area, New York and Florida area.
Yianni's Gyros Place offers a variety of entries for all guests. Starting with Gyros, Pork or Chicken Souvlaki and Falafel and Hummus, Greek Salads to NY Steak Sandwiches and our Philly Cheese Steak Pita, Greek Burgers, BB Ribs. We also have a kids menu. Just look at the variety on the menu. Prior to opening in Lakewood folks looking to get Gyros needed to drive to E. Colfax several miles away to get a Gyros sandwich. Those that need not travel the distance anymore have also said that Yanni's has the best Gyros in town. So many in the neighborhood have welcomed Yianni's Gyros Place with wide open arms, and come back again and again to enjoy the food, relaxed environment and hospitable staff.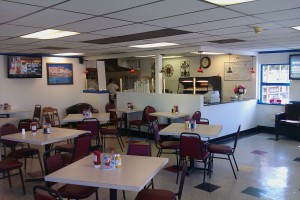 Yianni's Gyros Place cooks their Lamb and Beef Gyro meat the traditional way on a circular Gyro Broiler. They also make the Tzatziki sauce used on the Gyros in-house, as well as, all the traditional Greek dressing and Baklava as well. Take a look at the menu and stop by when you are in the area and dine-in or call us for pick-up order. Large orders are welcome and we can cater as well give us a call for a quote 720-524-8164. We know you are going to love anything on the menu and come back for more!
Yiamas from all of us at Yianni's Gyros Place!